Epworth Old Rectory is open from March to October. All are welcome to visit and explore this wonderful house and its gardens. Our volunteers will provide you with a warm welcome, come rain or shine. Explore the house with one of our knowledgeable tour guides, learning about the life of the Wesley family when they lived here in the 18th century. You can explore the gardens, including our Physic Garden, based on John Wesley's book of home remedies, Primitive Physic. You can also visit our shop with its wide range of Methodist books and souvenirs.
Click on the following 'Sway' to see inside
Suitable for D/Deaf
Click here for our: Accessible Welcome Information
We welcome all visitors to the Old Rectory and invite you to enjoy familiarising yourselves with what to expect upon your immediate arrival.
Opening Times
OPENING TIMES FOR GUIDED HOUSE TOURS :
Tuesday 11am – 3pm
Wednesday 11am – 3pm
Thursday 11am – 3pm
Saturdays 11am – 3pm
We are open from March – October: Tuesdays, Wednesdays, Thursdays and Saturdays 11am to 3pm, last admissions 2:30pm. We are closed on: Mondays, Fridays and Sundays.
The Old Rectory is closed November, December, January and February for essential maintenance works.
Admission Prices
Adult – £7.50
Concession – £6.50
Groups (10 or more people) – £6.50ea
Family (2 adults and up to 3 children under 16) – £20.00
Student in full time education – £5.00
Child under 16 – £4.00
Walk with Wesley – £7.50
Walk with Wesley and House Tour, adults (by prior arrangement) – £14.00
Walk with Wesley and House Tour, children (by prior arrangement) – £6.50
School Groups – £3.50 per child (up to 3 adults free)
Access
Currently the grounds are accessible for wheelchairs, there are two disabled toilets, and parking can be arranged close to the house. The shop is also accessible. There is a ramp to the front door of the Old Rectory and the ground floor is accessible, though there are some small changes of level. Unfortunately the first and second floors of the house are not wheelchair accessible. There is a reduced admission charge for those who are unable to access the upper floors of the house. Guide dogs are welcome. Our guides will adapt the tour of the house according to the varying needs of all visitors. Please see the above 'Sway' for more accessible information.
Gardens
Our gardens are open all year round and free for everyone to enjoy. Our Garden Trail is attached for you to get the most out of your visit.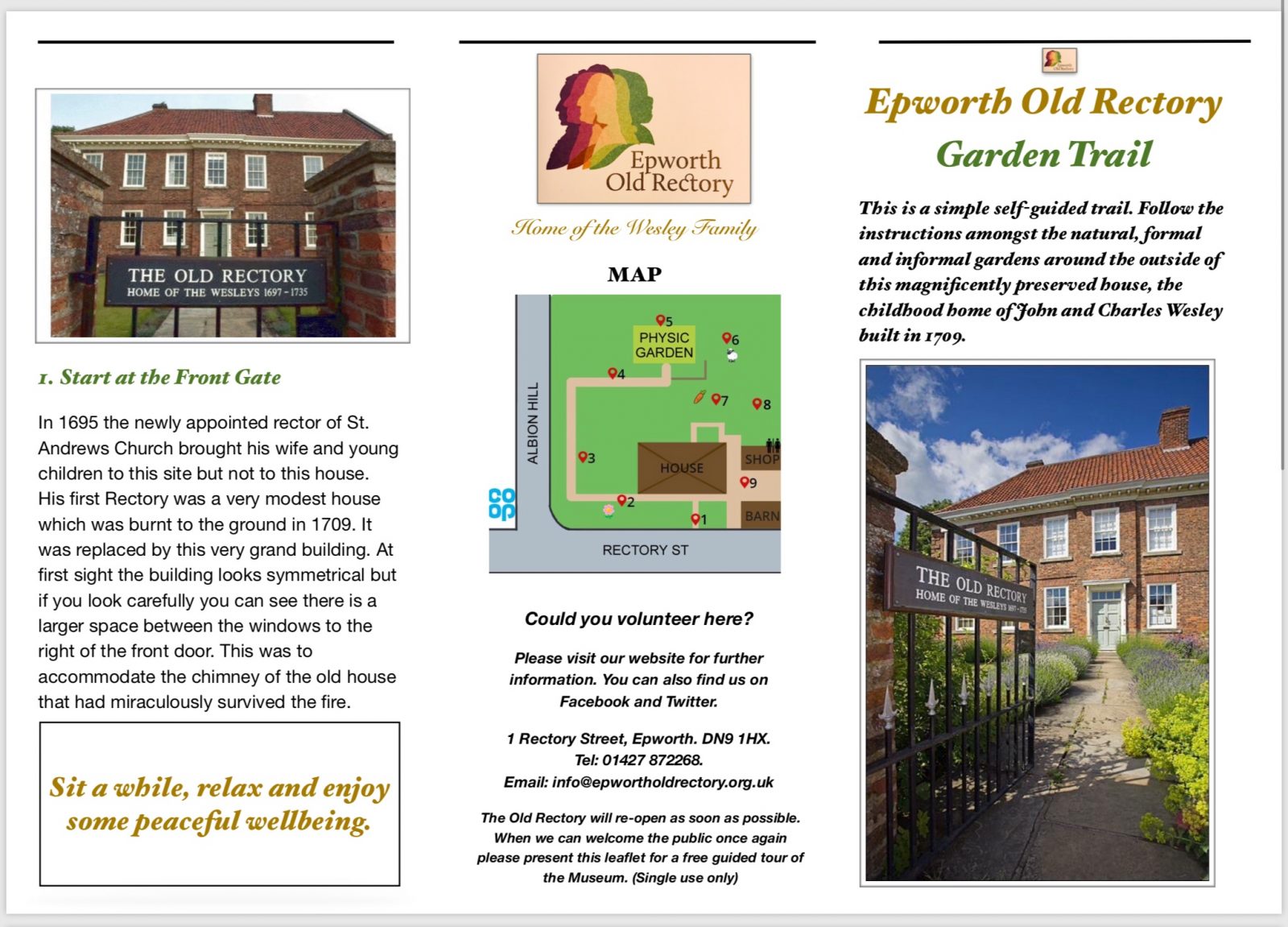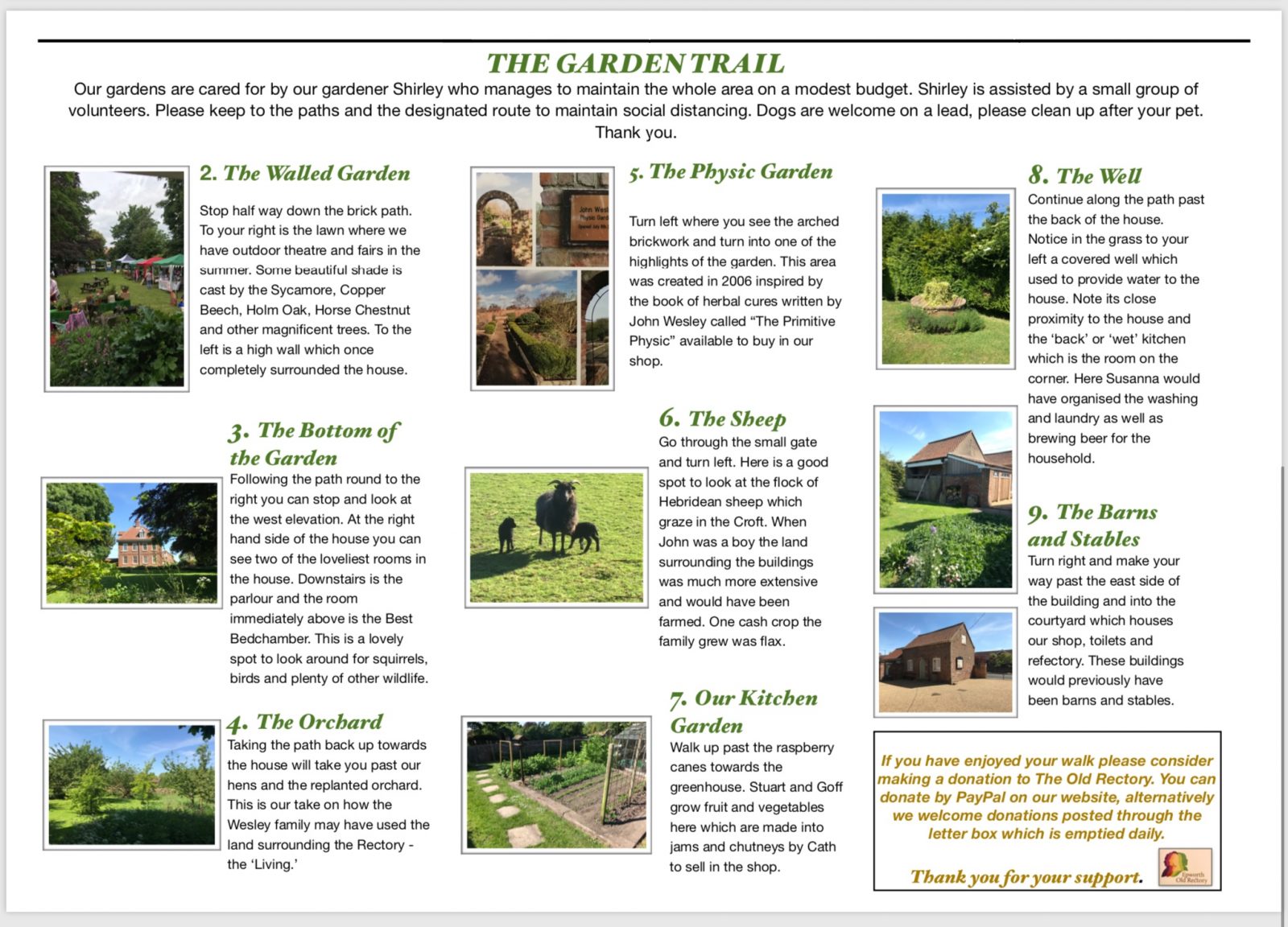 Photograph Book and Virtual Tour
To enable all visitors to experience as much of the Old Rectory as possible, a photographic tour of the house is available. This can be accessed in two formats: a photograph book and PowerPoint presentation on an iPad. If you would like to have a look at these please ask one of our volunteers.
You can also visit the house virtually using the Virtual Tour on our website.
Photography
Personal (non-commercial) photography and filming are permitted at Epworth Old Rectory. However we ask visitors to be sensitive and respectful in their use of photography equipment:
Please do not carry large tripods and selfie-sticks around the house. These can be left safely in the shop during your visit.
Where possible, please do not use flash as this can damage artefacts.
Please do not distract other visitors from their tour.
If you would prefer not to take photographs, there are postcards for sale in the shop showing several views of the inside of the Rectory.
Commercial photographers and film crews are asked to contact the Old Rectory using the form below, or via telephone.